CHICO
8 January - 27 September 1998
---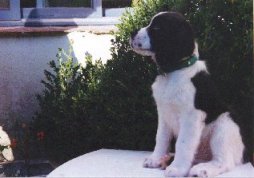 In the summer of 1998 (January) we set out to buy a dog. We were somewhat reluctant to take on such a responsibility. Especially since we are sure to be moving some day. One can only guess the amount of trouble of getting your pet through customs. In Sweden there is a quarantine of 6 months (to a very high cost).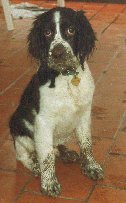 By coincidence we ran into an american couple who were breeding english springer spanials.

After many visits and further hesitation, we finally chose Chico from the group of 8 puppies.

To the left is Chico as a little puppy in our garden. He was very active, running around and investigating everything. Luckily we had a garden enough to make life at home much more fun.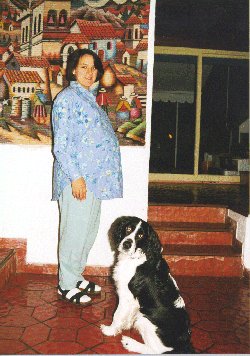 Here is Cristina with Chico at age 6 months.
Cristina who was pregnant with Christian and Chico were both gaining weight during autumm and winter (April-September 98).
Chico was not as big as he looks in this picture (Cristina was....)
He also had his favourite chair. Although we taught him several tricks and got him pretty much under control, his chair was too difficult stop. Especially if we had to leave him alone at home for a while…
In the end we used his blanket for protection.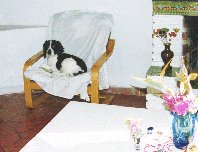 In the middle of September he became rather ill and did not respond to any treatment. One week after Christian being born, he died in, what we believe, the so called puppy-decease. I cried.

Even for the short time he was with us, he will always be in our hearts for the undevoted love and trust, for the unforgettable moments and for the way he greeted you every time you came home. We still miss him.