Winter in Sweden 1996
---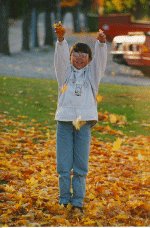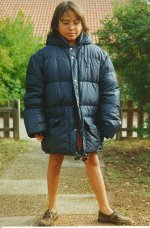 These pictures were used for our Christmas cards. We didn't have any snow when preparing and the cards had to be sent by November.
To the right, Liana trying out the clothes for winter. Not her size, yet...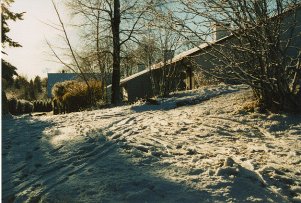 Suddenly the snow was here and Liana and Cristina was looking at the first winter in Sweden. The leaves have all fallen and Christmas is nocking.



Winter is here !!! We were lucky this winter. There was snow enough for everybody. Right: Aunt Helena in the snow with Liana. Skiing and riding sleds was all new to her.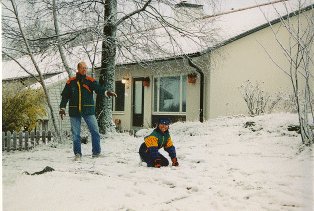 Left: Here we are playing outside our home. Cristina was sick before Christmas and couldn't participate. Everybody enjoyed themselves tremendously though (besides Cristina).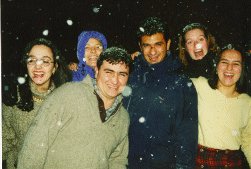 Before Christmas we invited some friends from Colombia other latin connections. Fun was had and dancing to salsa and merengue was going on, as it started snowing outside. Suddenly the party went outside to enjoy the snowflakes. As you can (almost) see Cristina is outside in her short skirt....

Christmas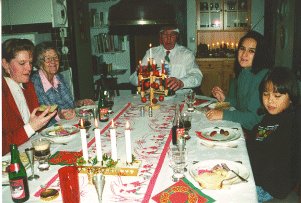 This is the first Christmas in Sweden. (We have not celebrated christmas in Sweden since then). We all, (especially Johan) miss the traditional table, the "Christmas smorgasbord". We also miss all the special parts such as Donald Duck, Albinoni, reading the bible, the presents and the family get-together on December 25th. All the traditional events associated with Christmas in Sweden. One of those traditionas is shown by Bob here, as he is pooring the icecold snaps into the glasses....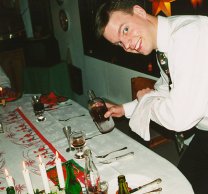 The last pictures shows grandmother Ellen, opening presents. We will not be able to repeat this event since she passed away in 1998. We were fortunate to have her present at our wedding and getting to know Liana. She never met her greatgrandsons Christian or Alexander.